By Ann |
13
January 2021 |
0
Comments
How to choose a lace front wig
There are many kinds of wigs in hair market, so are the ways to classify them. Generally speaking, it can be classified as three types. One is synthetic hair, another is hair mixed with synthetic and real human hair, and the last one is 100% human hair. Real human hair entails the best quality and many encouraging features like softness, resilience, the ability to absorb nutrients and healthy shine, which is not possessed by the other two types of hair, hence the higher price.
However, many people, in spite of the price, are still pursuing this kind of hair, human hair, which falls and swings the same way as natural hair does, because they are looking for a hair which can provide the most natural look for them.
Since there are plenty of wigs available for us to choose from, I would like to introduce and fill in you on some details and dispel some doubts about wigs.
1. Some frequent questions about Lace wigs
1.1 Why is there lace on wigs?
The purpose of the lace is to give the wearer the appearance of a natural hairline. Wigs are highly popular because when worn properly, it appears as if it's your natural hair, and can be styled the same as your natural hair with various parts and ponytails.
1.2 What is the best lace for wigs?
Swiss Lace is delicate, breathable and can be used for the front of the hairline and/or the entire base of the wig. Swiss lace is finer and more fragile than French lace. It also blends better with the skin for a less visible appearance.
1.3 Do lace wigs come off easily?
Lace front wigs are so effortless and easy to pull off that anybody can wear it. It is suitable for any genders. Even kids with skin disorders that prevent hair from growing can also wear it
1.4 Which is better full lace or 360?
If you don't count the budget, the 360 lace wigs will be better. Not only the install time is less than full lace wig, but also the feelings are more comfortable compared to full lace, or lace front wig. 360 lace around your head makes it more comfortable and breathable.
1.5
Are full lace wigs worth it?
A significant good point of lace wigs is that they create a natural look. Because each strand of human hair is tied to the lace cap, it appears as if the hair is growing out of your own scalp. You don't need to worry about a hairpiece that is simply resting on top of your head as you would with wigs from decades ago.
1.6 Do lace front wigs damage your hairline?
Actually, human lace front wigs will not bring any damage to wears hairline, the only way to damage their hairline is improper installation and remove, as long as you pay more attention to the installation and removal procedure, your hairline will never be damaged.
2. How to choose a lace front wig
?
When it comes to wig-choosing, first of all, we should know our own head size. To determine the right size wig for you, measure the circumference of your head from the front hairline, behind your ear, to the nape of your neck, to your other ear and then back to the front hairline.
After measuring the circumference, you can compare your measurements with the figures I show you by diagram so you will get to know which cap size you should opt for when selecting a wig.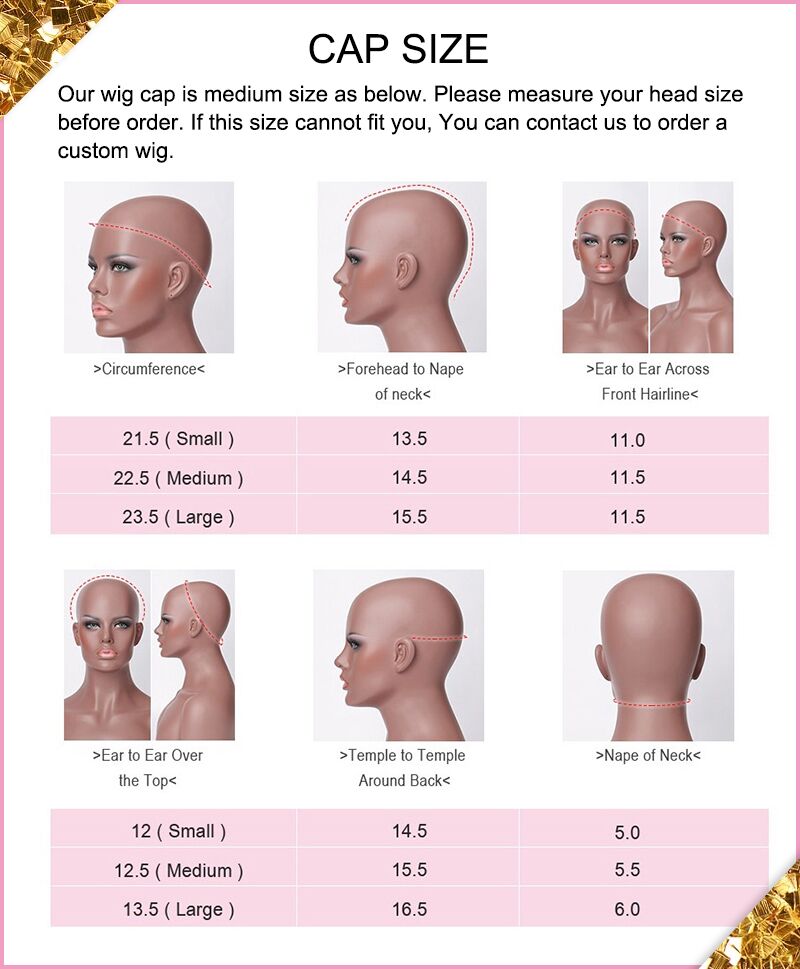 Secondarily, we need to choose a correct lace. There are mainly three kinds of lace, brown lace, transparent lace and hd lace.
The colors of brown lace can be subdivided into light brown, medium brown and dark brown.
Transparent lace is suited for persons who have a fair skin, its color light and its visibility small when applied to the scalp.
Hd lace is the thinnest lace and most sought-after product in hair market, so invisible and lifelike when applied to the scalp that it can blend with every skin tone and others will even have a hard time to detect its existence. Besides it also gives you the sense of comfort and breathability so as to cause the least itchy feeling.

In terms of lace-choosing, take account of your own skin tone and select the one that can meet your requests.

After knowing our head size and which lace we should choose, texture is brought to the front for us to decide. To put it simply, there are straight, wavy and curly hair. To be specific, they can be expanded to greater extent, such as silky straight, kinky straight, bodywave, deep wave, deep curly, etc.


When you read over this article, you may have already learnt of the knowledge about lace front wigs and how to choose a lace front wig that suits you.
That is what our ultimate goal lies in.
Leave a Reply
Your email address will not be published.Required fields are marked. *